Mockingbird Used Books in Sebastopol is about to open! Brandy and Mark are planning for a soft opening on Saturday, July 14.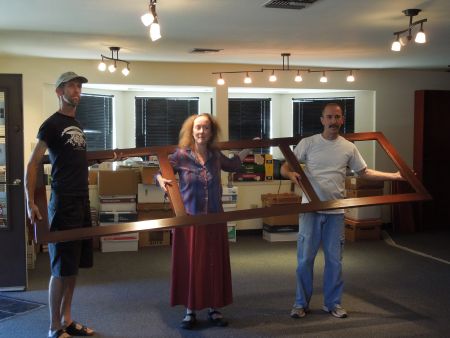 The bookshelves came in. The partners also concluded negotiations with the landlord and got the suite next to them, and they hope to expand into that space soon.( It has some problems, including a pesky water leak the landlord has to fix.) With this much space, and gondola shelves that are on castors, Brandy is looking forward to hosting reading and writing events now.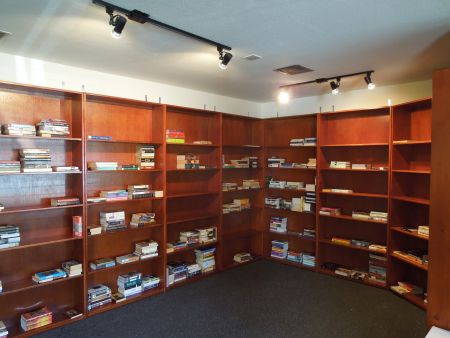 She invited me down to see the shelves, and the counter was being delivered just as a I got there. The counter is gorgeous. So are the shelves. The boxes filled with books aren't particularly gorgeous — they're merely magical.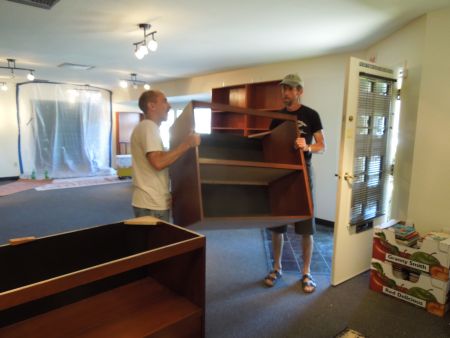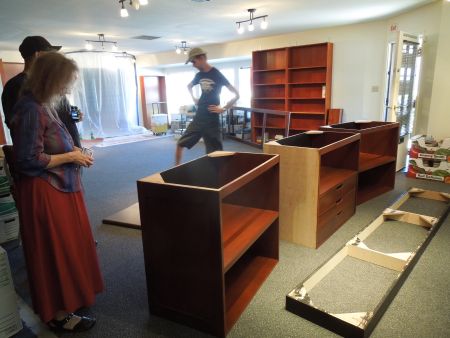 They repainted the walls from "bright white" to a "soft white" (just how many shades of white can there be?) and had the shelves finished in cherry. They bring a warm glow to the room, and it looks dignified and welcoming… except for the hole with the plastic covering the entrance into the new space, but it's a work in progress, right?
I was their first customer! I was walking around taking pictures, and right there on the shelf, on top of a stack of Michael Chabon books, was Werewolves in Their Youth, a book I've looked for, off and on, in used bookstores for about five years. I snatched it up. Brandy rang me up on their new automated system, which completes the sale and adjusts their inventory. The only thing it didn't do was print a receipt because they didn't have it connected to the printer just then.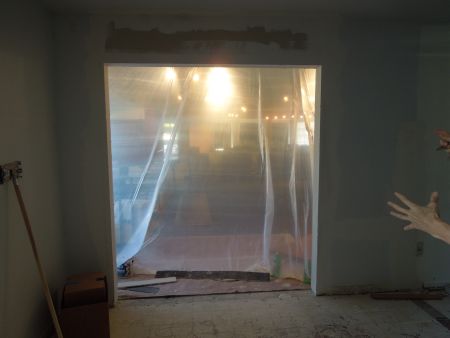 You might be thinking that it doesn't look like there are very many books. There will be a listing-and-shelving marathon happening early next week, as they and their friends load the thousands of books they have onto the shelves. Equally important is loading them all into the automated inventory system. And more shelves are on their way.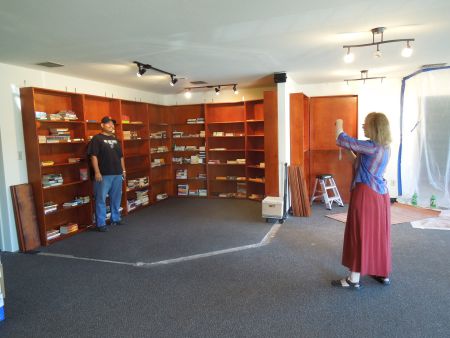 If you were pining for the old Copperfield's Used Books in town, Mockingbird should fill that void. If you are coming into town from the east, turn right on Petaluma Avenue and park wherever you can. Walk back to Bodega Avenue, go past Screamin' Mimi's ice cream and the ceramics place. Mockingbird is right across the little parking lot. You can park in the plaza parking and walk straight over. From Main Street, it's one block east, next to the Toyworks toy store.