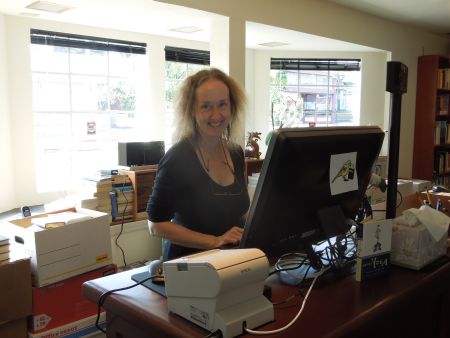 Brandy and Mark opened their door to customers yesterday at 10:00. I got there are about 10:15 and they already had one browser besides me. A minute later a woman came in who said she's been waiting for them to open. I think she is going to go tell all her friends.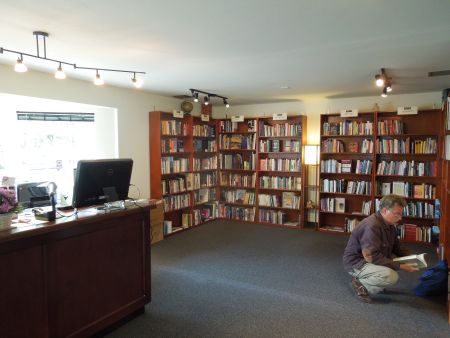 They are waiting for four gondolas; lower stand-alone two-sided shelves that ride on castors so they can be moved around if needed. "We plan to have some display tables and some chairs," Brandy said. "You know how you always think you're going to have more time? We planned to visit some of the cute little antique shops and pick up chairs … and at 3:30 in the morning, after listing books, we decided we probably weren't going to do that before we opened."
I had pictures of the counter in an earlier post. As you can see, it looks gorgeous.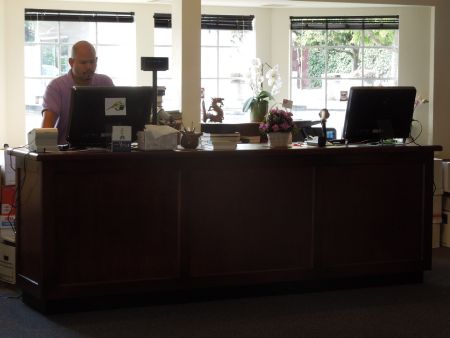 I see Mark's handiwork in the quality of children's books — Newbury winners and other fine reads, and not a lot of Gossip Girl or Vampire Adademy retreads. (By the way, that is not Mark above, that's his partner.)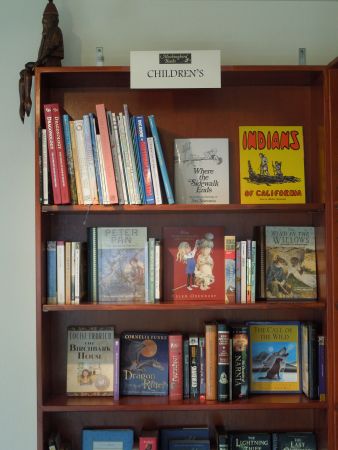 I picked up the diary of a woman gold-prospector in the Klondike in the 1900s, and a real find on the science fiction shelves — the recent biography of James Tiptree Jr, aka Alice Mary Sheldon. Brandy shook her head as she rang me up. "Sad," she said. "So brilliant and so screwed up."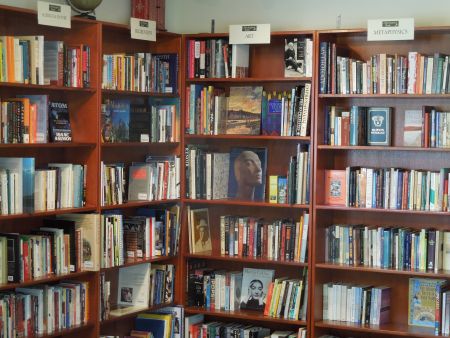 After I left I had to drive past the location of the old Copperfield's Used Books. The banner in the window says "For Rent, Available February, 2012." And July, 2012 too, apparently.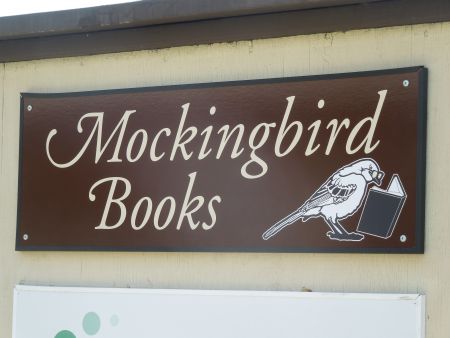 Mockingbird Used Books has great visibility from Highway 12 as you are coming through town. You can turn right on Petaluma Avenue and park at the plaza, and walk over to the store, or park on Main Street and walk one short block east. They are across the street from Jasper O'Farrell's, next door to the Toyworks. I already know that they are going to become a destination, part of the my Sunday morning ritual. Visit the farmers' market, stop and buy a book.