Last Thursday at Mockingbird, I had a vague conversation with Jeff about book-ends. I decided to go on a quest through west county's antique stores, for bookends. My plan was to visit Cotati and come back via Highway 116 South, then check the stores in Railroad Square in Santa Rosa.
Being a Cotati-Body:
Cotati is not famous for its antique shops, so why would I go there first? Here's why: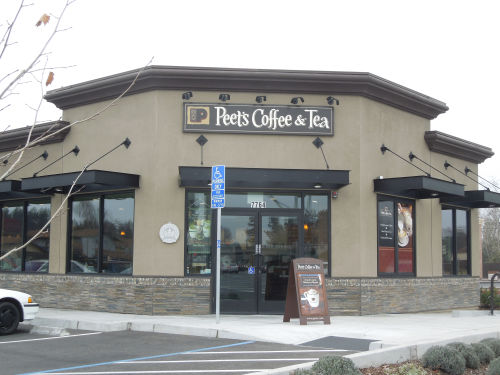 This is the Peet's Coffee that is closest to my house. I would never drive eight miles to buy a coffee drink, but I would drive there to get beans. My plan: get coffee beans, check downtown Cotati for any antique shops, and then head home, stopping at one or two of the many places on 116.
Cotati, nationally, is best known as the home of California State University, Sonoma – or, as anyone over 35 around here calls it, Sonoma State. The campus is now home of the Green Music Center, a world class concert hall with a controversial funding history and gorgeous acoustics.
Cotati is also well-known – okay, maybe not well known – for its annual accordion festival, which has spawned the ominous phrase, "Use an accordion… go to Cotati."
In the 1970s, Cotati had a top-shelf music club, The Inn of the Beginning. Spanckey's which is in part of old Inn's space now, books good acts, but it isn't the same.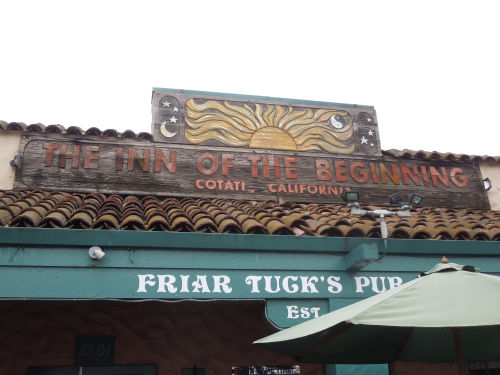 The 1970s were good to me.
In certain circles, the 8-Ball is famous… or perhaps notorious. They have such an awesome neon sign though, so how can you not love them?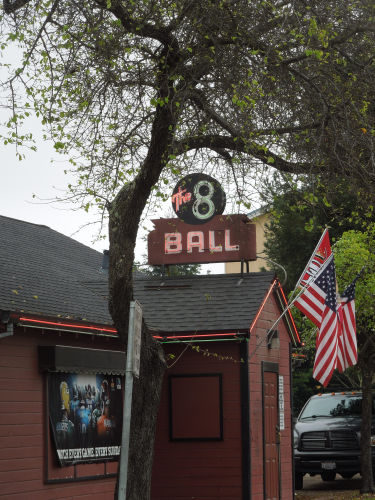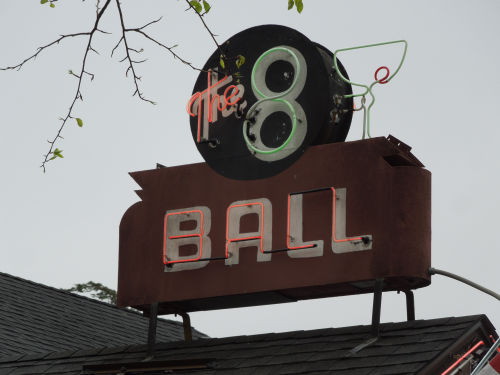 Answer hazy, ask again later
I walked along the three blocks that make up downtown Cotati, but found no antique stores. I took some pictures of empty-eyed Athena, found my car and headed northwest, back toward home.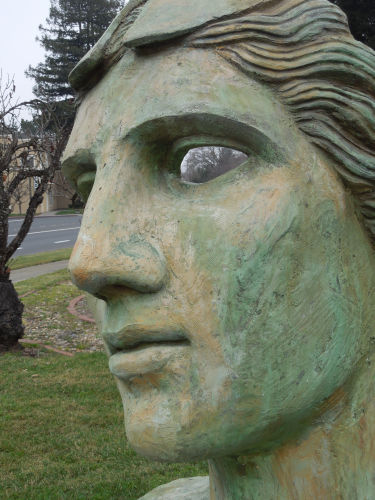 Sculpted by Peter Crompton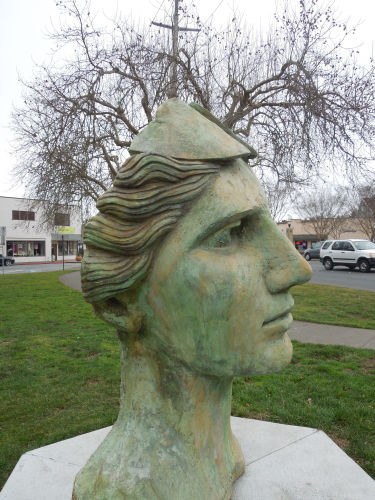 As easy as it to get background matter sprouting from a person's head by accident in a photo, getting the pole to look like the front of a  crown was kind of tricky.
Llano House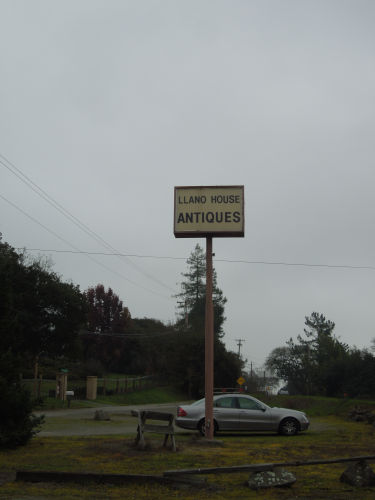 I was never crazy about this sign.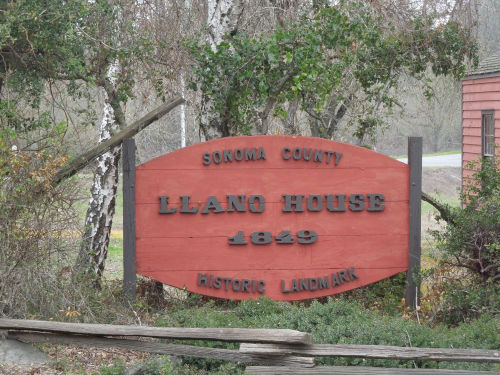 I've lived in Sebastopol 37 years, and I've never gone to Llano House antiques. Where have I been? For one thing, I didn't realize that the place backs onto the highway, and the dingy little building I've always avoided is actually the annex, not the house.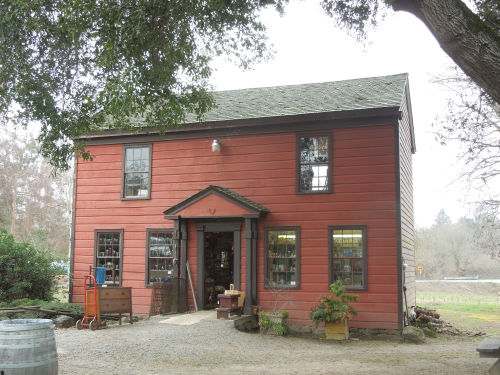 And this is the house.
The actual house was built in 1847. I'm guessing, given the agricultural history of this area, that this was a farmhouse. The second floor is filled with furniture, mostly chairs, mostly full sets of chairs, carefully labeled, "Do Not Touch! Please ask for help with the chairs." The room is so crowded that I didn't find it very appealing.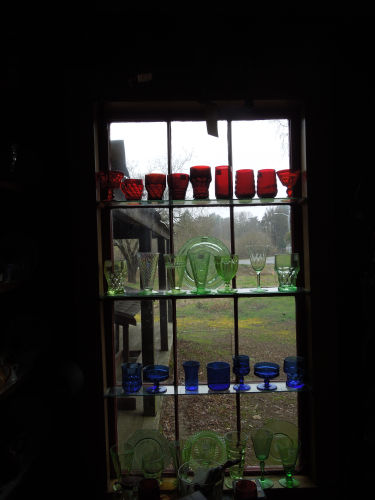 Downstairs, though, is a room devoted to Depression glass, and lots of old tools, like planers and levels, in good condition. The owner also has a stunning collection of metal coin banks, many in the shape of buildings. They are displayed in a locked, lighted cabinet, and are a lot of fun to look at. Some are of fretted metalwork so you could watch your riches grow as you dropped your pennies and nickels into the slot on the top.
One step down from the display case of banks, a long, slightly narrower room held some china and kitchen implements, small furniture like end tables, figurines and bookends. I found a singleton that I really liked.  The owner tried to interest me in a pair of heavy, machined bookends, really well made, of a smiling Dutch girl holding pails of water. They were expensive and I didn't love the subject matter, so I said no. But I had one now! On my way.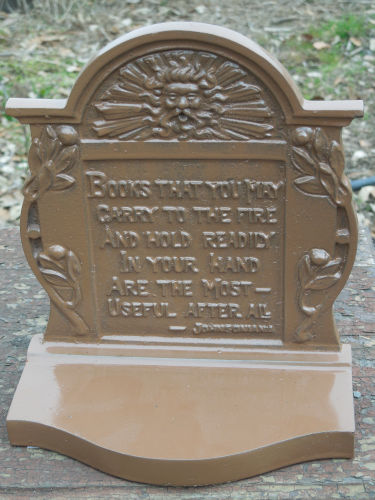 "Books that you may carry to the fire…" Wait! What?
An Armada With a Motley Crew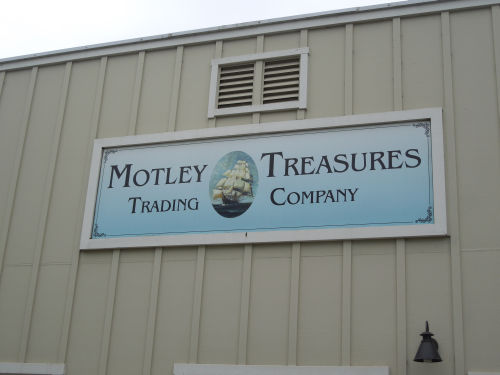 About a mile north, at the corner of Hessel Rd and Highway 116, Motley Treasures required a left turn across traffic but I risked it. I've avoided this place too, for a while, because they had a life-sized Jar-Jar Binks out front. Oh, wait, there he is now.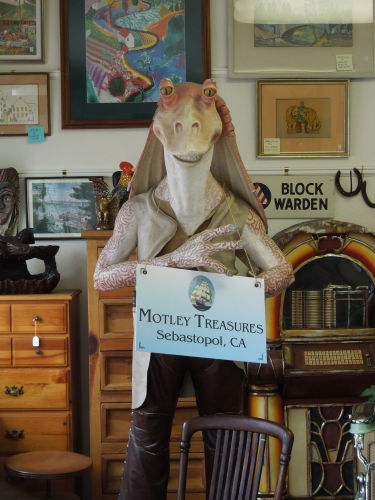 Who wouldn't want this lovely design piece in their home?
Motley Treasures is small and well lit, with lots of furniture and bigger items (like Jar-Jar). She has a lot of furniture and nicely maintained wooden boxes. Periodically I look for a nice wooden box that will hold all the electronics, their chargers and their power strip. She had some tempting ones, but beyond my price range. I found two sets of bookends there; a copper-over-clay set with a sailing ship design. The pattern was swirly and dramatic; curving waves, bellying sails, etc… titled "The Inconquerable Armada." Yes, they had a title, and a price to match; $56 for a pair of bookends.  On the other side of the shop I found a pair of sleeping lions for less than that (still expensive, though). I decide to spring for the lions, and the chatty, cheerful proprietor reminded me that it was a sale day and everything was 20% off the listed price. As she was wrapping up the lions I saw a pair of bronze eagle bookends. They were beautiful. I went over to look, but up close they seemed a bit Germanic –not double-headed, Unification, Kaiser Germanic but 1930s, Third Reich Germanic. I didn't even price them.
(You can see one in the Jar Jar photo, just over  next to Jar Jar's left  right shoulder.)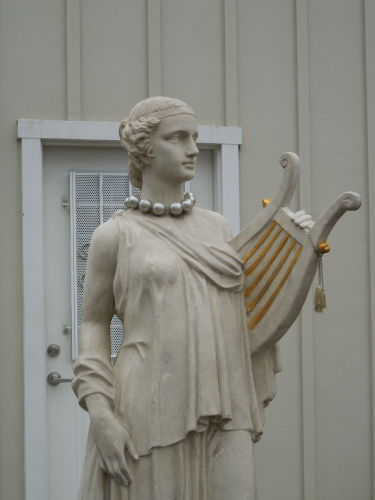 No offense, but who does your jewelry?
Still, with one and a half pair I was on my way! I didn't stop at the Antique Society, my usual antique haunt, because I'd been there the previous week.  Instead, I headed to Santa Rosa, to Railroad Square.