Once I reached Railroad Square in western Santa Rosa, my quest began to develop mission creep. I hear one or two of you asking, "What's mission creep?" It's when you start adding things to do to the thing you set out to do. You know, like that simple barbecue you wanted to have, and your sister wanted to bring some authentic Hawaiian musicians, and you thought that would be cool, and then she wanted leis, so you were going to stay up until 3:00 am and string flowers on cords, and then she thought maybe you could dig up the lawn, line it with coals and banana leaves and roast a whole pig. That's mission creep.
My "creep" didn't involve substantial landscape alterations or stringing flowers. I decided that besides a few bookends, a small candy dish might be nice. And maybe a penny dish like so many stores have now.
Sacks on the Square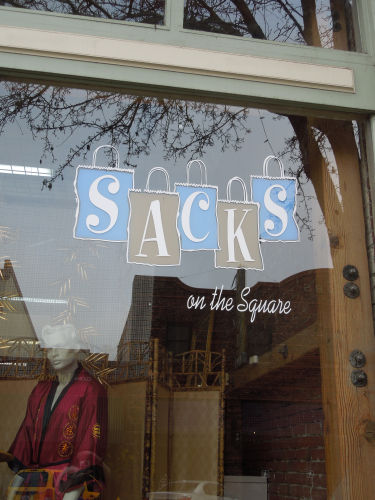 This started at Sacks on the Square, a thrift store that supports Memorial Hospital's hospice programs, and Face to Face, which serves people with HIV disease. This is a great little shop and they get wonderful things. They had some charming china, glass and plates, but no bookends. This was when the penny dish idea sprang to mind. I got a tiny square Japanese dipping sauce dish for seventy-five cents. It looks like it will hold pennies just fine.
I was somewhat hampered in this whole expedition by the fact that I don't really know Brandy's taste as well as I'd like, but I decided for seventy-five cents, if she didn't like it I could  find something to do with it.
The real problem was the candy dish. It can't take up too much space on the counter. It shouldn't be footed, or too tall, because it could get easily knocked off the counter, and that's bad. So, small and shallow. And it should be a nice color, but not too frou-frou pretty. Okay, then, simple, small, flat… but not a saucer. And what was I looking for again? Oh, that's right. Bookends.
I was distracted by the changes in Railroad Square. I knew that the Chevy's had closed, and I've eaten a couple of times at the newish Thai restaurant Koom Lana, but I didn't know that Gado Gado, the Indonesian/Thai design store, was gone and that the strange and wonderful costume store, Disguise The Limit, had moved into that space. Yes, right between Starks Grill and Steakhouse and a wine shop, there's Disguise the Limit, its windows full of mannequins with blue hair, draped with Mardi Gras beads.
Their thrift shop has been here as long as I can remember.
But… it's bookends, right? The Welfare League Thrift Store, founded in 1939 (the League, not the store, I think) is still there, in its own building. (I bet they pay rent to somebody, though.) No bookends, some nice glassware, much of it labeled "collectible," and priced a little high. No tasteful yet appealing little dish for Dove hearts on Valentine's Day, or a handful of Starburst candies… and what was  I looking for again?
All Aboard for Whistle Stop Antiques
By the way, does calling crap from the 1950s "mid century" really make it cool? I mean, some things from the 1950s were already cool — beat poetry, black turtlenecks, income distribution, motorcycles and leather jackets. And many things weren't so cool — the drive to conformity, discrimination, fear and paranoia, rigid gender roles, fashion and furniture. So why does a sterile,  mechanistic desk from 1954 look better when it's "mid century?" And I fully appreciate that  the 50s would be right in the middle of a century. I'm just curious.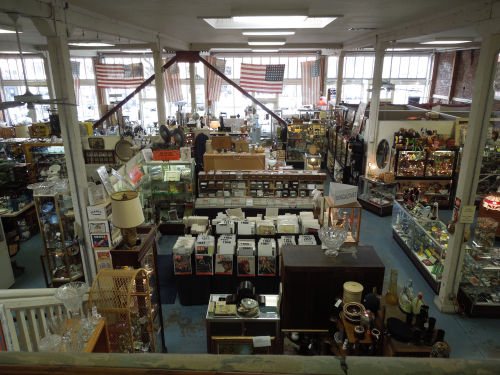 View from the mezzanine
Whistle Stop Antiques has some mid-century furniture, fashion and jewelry (shudder!). They also have some cool furniture, books, figurines, jewelry from other eras, tools, gadgets, model train sets, toys, banks, magazines, Depression glass, hand-painted china, flatware, other plates and goblets, and bookends. Like these: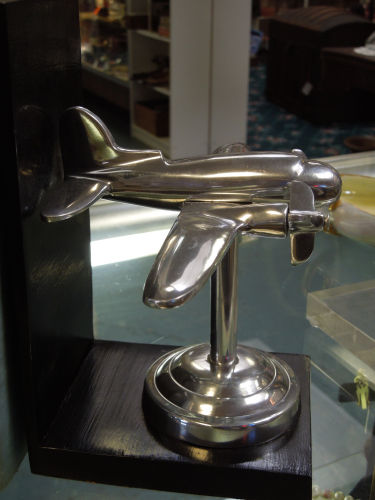 Exquisite
Isn't that simply splendid? Can't you imagine the pair of them, in Military History or History of Aircraft? I wonder how much they are.  Oh, $85. I  wonder if the dealer would take less for them. Not less than $80? Oh, well then. Okay. "bye.
That same dealer had some Depression glass dishes. I had my choice of two colors; pink or green. Pink would be good for a Valentine's Day candy dish. Green would be more general. The green dish was elaborate; the pink dish was geometric and a bit more elegant… and a bit bigger. So, elegant but too big. Small but too frou-frou. But wait! Behind me, in a corner, a small stand held some pale lavender dishes, including a small flowered dish. The right size, not too frilly, a color that works for the sweetheart holiday and others. More importantly, it didn't cost $85.
Across the floor in a case in a corner I found a pair of carved marble bookends, reasonably priced. They were next to the $225 pair of white marble temple dogs.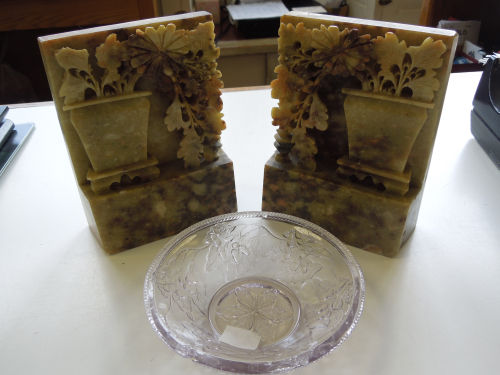 The bookends are about eight inches high.
That made five bookends, 1 penny jar and one candy dish. I decided I was a success and went to have brunch at the Omelette Express, four doors down.