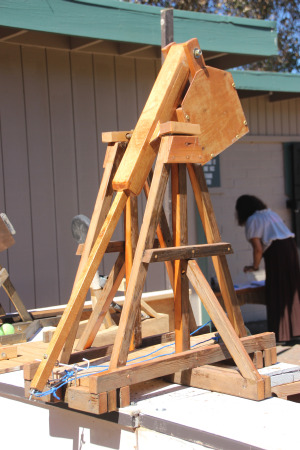 Trebuchet loaded and ready to fire.
I think every sixth grader should learn how to build a trebuchet. Think of all the school subjects you could weave in; mathematics, physics, history, woodshop. Plus, after the apocalypse, you'd have someone who could build you an effective weapon that doesn't require a battery or petro-fuel power source. Wouldn't that be helpful?
The trebuchet has a long straight arm on an axle (which I think they call a pivot). One end has a bucket (the dreaded "buchet?") that is weighted. The man at the booth estimated the weight at about 15 pounds not including the weight of the wooden bucket itself. A sling is attached to the other end of the arm.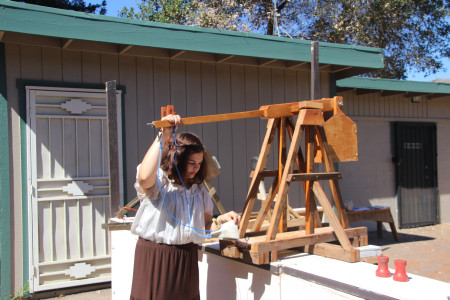 Loading the apparatus, Step One
One end of the rope portion of the sling is fixed permanently in place; in the middle is a cradle of canvas or sturdy fabric, leather, etc; the other rope end loops onto a short spike. You pull the non-bucketed end down toward you and fasten it. In this case, a long firing pin (a bolt) slipped through three eye-bolts.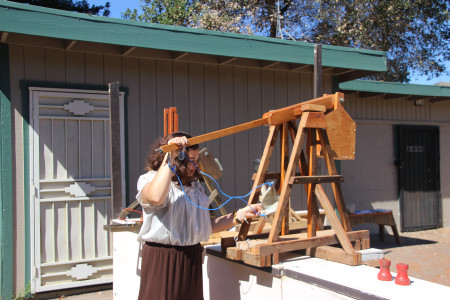 Step Two
One is in the throwing arm, the other two mounted on either side just to hold it in place. How did they do it in the old days? Did they use rope or braided leather, or a bunch of guys holding in down against the weight? (Imagine holding down one end of the see-saw without sitting on it, when there is a person on the other end).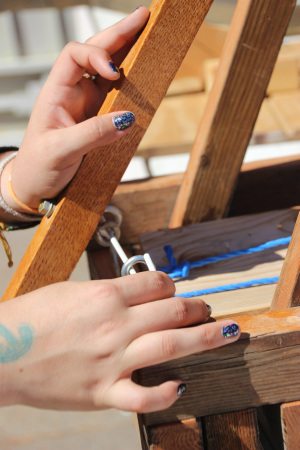 That's the firing pin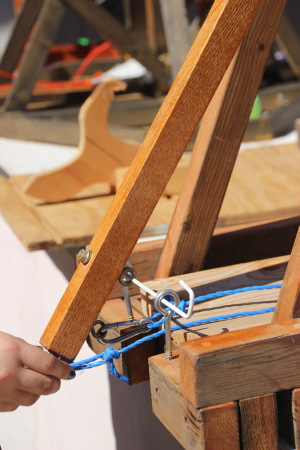 That's the other end of the sling. Centrifugal force or physics or something will hurl it loose and the tennis ball will attack.
Once you have made sure that no one is standing in the path of the arm, you draw the firing pin. Gravity yanks down the weighted bucket; the light end sails up and the loose rope end of the sling flies free, hurling your ammunition toward its target. I'm guessing in the old days, when  they actually used trebuchets, the signs in the work place almost always read, "Days Working Without a Life-Threatening Accident: 0."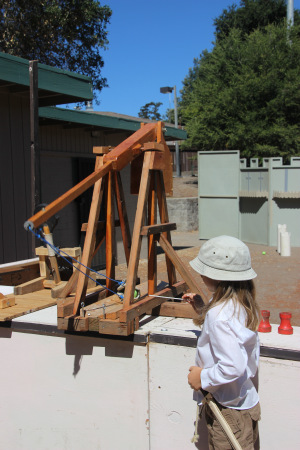 Ready… set… Launch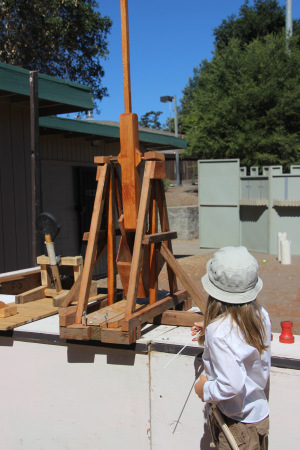 Launching…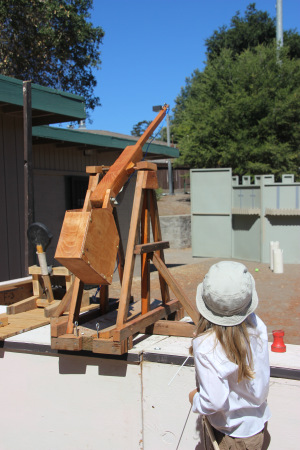 Incoming! (or, er, Ougtoing!)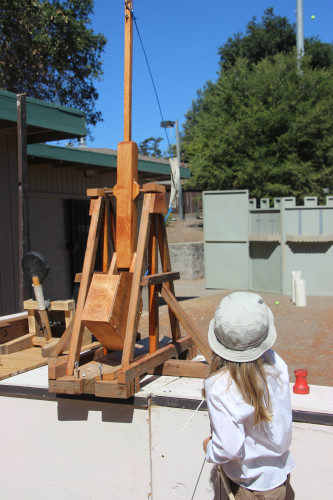 If you look at the top right of the photo, find the flag pole, you will see the tennis ball, to its right.
Anyway, I could almost build one of these. Well, no. I could draw one of these and someone who can actually use a saw and work a drill could build one. After the apocalypse, I will be right there to help you hurl tennis balls at the zombie hoard. I promise.