I love the birds of prey. I probably spent half an hour there talking to the man from Airstrike Bird Control, who makes a living with his birds by taking them to vineyards (to drive away starlings), landfills (to drive away seagulls); and, surprisingly, hospitals (to drive away pigeons).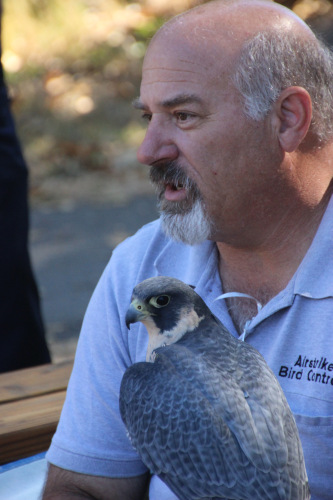 The female peregrine is named Gretchen
He had an interesting observation about his falcons. Bear in mind this is anecdotal, not scientific; he has no chicks this year. He admitted he kept his mated pair out hunting a bit longer than usual this spring, but even so, he only got a few eggs and none were fertile. Then he said that the two pair of peregrines in the wild in Morro Bay, that are studied almost constantly by ornithologists, naturalists, biologists and a lot of other –ists, did not hatch chicks this year. (Actually, it seems like one pair did and maybe lost the chicks.)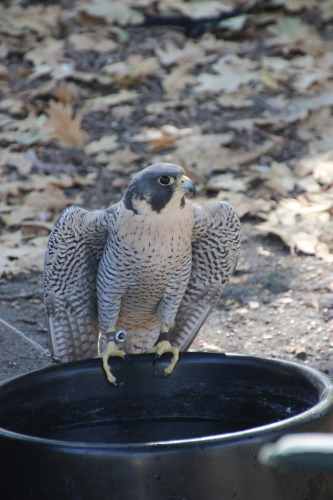 Male Peregrine
He said, casually, "Raptors in captivity react in sympathy with birds in the wild, so I'm guessing something's going to happen this winter; like maybe it'll be a rough one."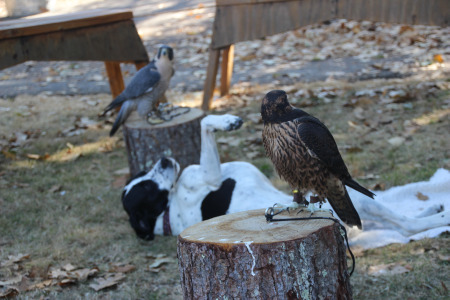 The silly mammalian quadruped is named Nick
What? Birds in captivity react in sympathy? So it's not about environmental stresses; birds raised in captivity don't have to worry about natural enemies, lack of food or even disease, really… but the whole species reacts the same way? If that's true, it's darned interesting. If it's not exactly true, it's still darned interesting. It makes the concept of saving a species by raising members in captivity… shaky. And it makes that lovely Gaia thing, this idea of inter-connectedness, a little bit stronger.