A few small raindrops fell on my head as I walked from the parking structure across the Santa Rosa Junior College's velvety green lawn. A short distance away I could see the white tops of awnings. A flock of blue chairs clustered around the commencement stage under the trees.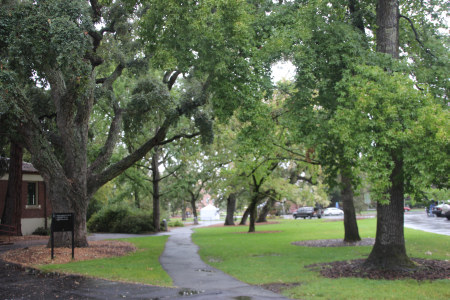 The rain got heavier. When I got inside the Bertolini Student Center it was raining pretty steadily, which posed a problem for the Book Festival, since several events were scheduled for outside.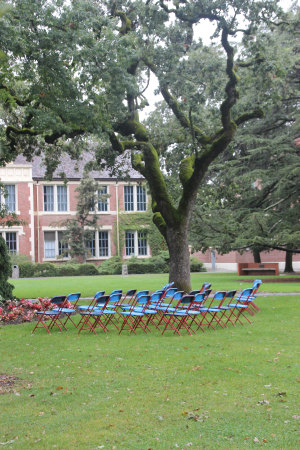 Several other volunteers and I ran around, posting signs announcing venue changes as we moved staged events indoors. I got plenty of exercise, because I went up (and down) the stairs to the second floor about seven times. I helped carry in a few chairs. At 9:55 rain was pouring down, but the air was not cold — the whole feeling was vaguely monsoon-like. This, in fact, is a typical fall storm for us, on those rare years when we get early fall storms.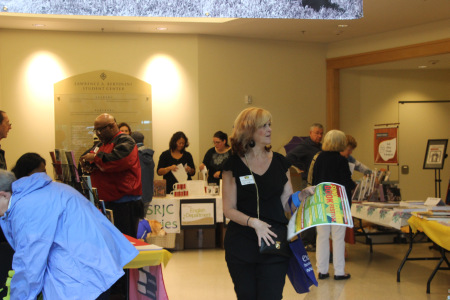 Vendors who would otherwise have been outside moved in at the last minute
After about 35 minutes of chaos, the place looked as if the planners had always expected it to be inside. The roomy building accommodated all the events, although sidling through the poetry room to get to the Young Adults panels was awkward, and the Redwood Writers Club reading circle competed, acoustically, with the poets.
Even though I was a volunteer, I got to see and do quite a lot at the event. This new venue was a lifesaver with the rain (and of course, by eleven am the sky was blue, filled with fluffy white clouds and no more rain), but also makes the whole festival easier to navigate. Children's events were held in the Doyle Library, and there were some things going on in Pioneer Hall but I don't know what.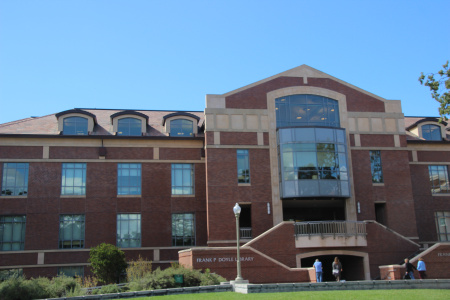 The Frank P. Doyle Library. Yes, that is clear, sunny blue sky above the impressive edifice.
Many local writers were present and accounted for: Michele Ana Jordan, award winning graphic novelist Brian Fies, Paige Braddock, Dorothy Alison to name a few. Many more came up from the Bay Area; Helene Wecker, who wrote The Golem and Jinni, and a trio of delightful women mystery novelists who participated in first panel I saw, Women in Suspense.